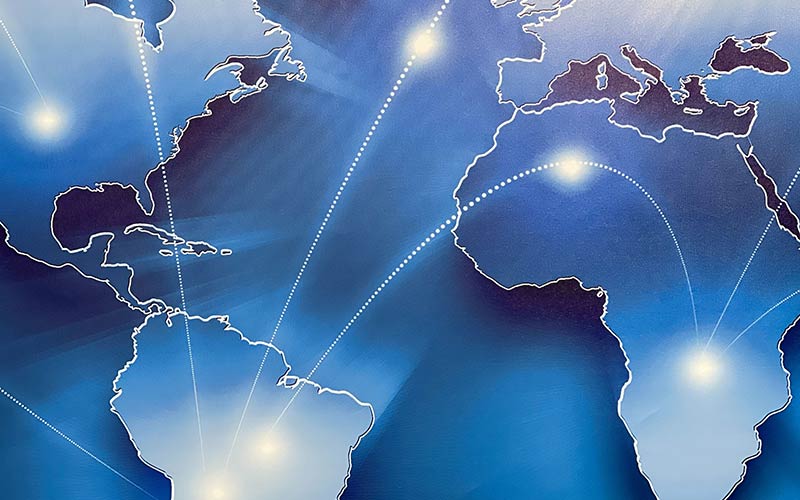 Awesome Content Delivery
ServerCloud's global content delivery network is fast and priced right. Servers in 53 locations allow us to deliver content quickly and reliably, ensuring quality while handling large volumes of traffic. Standard CDN includes delivery from 36 PoPs in North America and Europe and Premium CDN adds 17 more PoPs to include delivery from all regions. ServerCloud Frees Your Bandwidth™ by including the first 1,000GB of transfer and automatically lowering rates as your traffic grows.
Standard 36 Locations
Amsterdam, Netherlands
Ashburn, Virginia, USA
Athens, Greece
Atlanta, Georgia, USA
Belgrade, Serbia
Bratislava, Slovakia
Bucharest, Romania
Chicago, Illinois, USA
Dallas, Texas, USA
Denver, Colorado, USA
Dublin, Ireland
Frankfurt, Germany
Houston, Texas, USA
Istanbul, Turkey
Kyiv, Ukraine
London, United Kingdom
Los Angeles, California, USA
Madrid, Spain
Marseille, France
Miami, Florida, USA
Milan, Italy
Minsk, Belarus
Moscow, Russia
New York, New York, USA
Paris, France
Prague, Czechia
San Jose, Texas, USA
Seattle, Washington, USA
Sofia, Bulgaria
Stockholm, Sweden
Tel Aviv, Israel
Toronto, Ontario, Canada
Vienna, Austria
Warsaw, Poland
Zagreb, Croatia
Zurich, Switzerland
Amman, Jordan
Bogota, Colombia
Buenos Aires, Argentina
Doha, Qatar
Fujairah, United Arab Emirates
Hong Kong
Jeddah, Saudi Arabia
Johannesburg, South Africa
Lima, Peru
Mumbai, India
Panama City, Panama
Santiago, Chile
Sao Paolo, Brazil
Singapore
Sydney, Australia
Tokyo, Japan
Ulaanbaatar, Mongolia
Our Rates, Automatic Savings
Global Standard CDN includes delivery from 36 North America and European locations. Global Premium Delivery is an excellent value, activating 17 additional locations and delivering from all world regions. ServerCloud CDN costs 90% LESS than Amazon CloudFront!
Per Month
Standard Delivery
36 Locations
Cost per GB
Premium Delivery
53 Locations
Cost per GB
First 1TB
$.01 or FREE
with CloudClub
$.015 or FREE
with CloudClub
Next 9TB
$.008
$.01
Next 40TB
$.007
$.009
Next 100TB
$.006
$.008
Next 350TB
$.004
$.006
Next 524TB
$.003
$.005
Next 4PB
$.0025
$.004
Next 5PB
$.002
$.003
Over 10PB
$.0015
$.002
Customer pricing graduates to higher tiers automatically based on usage. ServerCloud customers receive the best price for traffic based on these transparent pricing tiers. GB is the abbreviation for Gigabyte, and references Gigabytes of Transfer.
CloudClub Bundle
$25.00 Value
Includes 1 TB Transfer
Standard CDN
Delivery from 36 Locations
— and —
Includes 1 TB Transfer
Premium CDN
Delivery from 36 Locations
à la carte Standard CDN
Delivery from 36 Locations

— Includes 1 TB Transfer —
Pricing Tiers Graduate
Automatically
à la carte Premium CDN
Delivery from 53 Locations

— Includes 1 TB Transfer —
Pricing Tiers Graduate
Automatically
Content Delivery Explained
A content delivery network (CDN) is a system of globally distributed servers that are used to deliver web content to users. The CDN stores copies of the content in various geographic locations around the world, allowing for user requests to then be routed to the nearest server for a faster and more efficient delivery.
Here's how a CDN works:
The content provider creates and stores the web content on a central "origin" server, often located at the provider's own data center or a cloud location.
The CDN provider sets up a network of servers at strategically chosen locations around the world. These servers are typically located near major internet hubs, and are designed to provide fast and reliable content delivery.
When a user requests web content, the CDN provider routes the request to the server closest to the user's location. This reduces the physical distance data might otherwise have to travel, improving the speed of content delivery.
The server receives the user's request and retrieves the content from the central server, or from another server in the CDN network if a copy is available.
The server then delivers the content to the user, who can access it through their web browser or other application.
If the user requests additional content, the process repeats, with the CDN routing the request to the nearest available server and delivering the content as quickly and efficiently as possible.
By using a CDN, content providers can improve the speed, reliability, and security of their content delivery, creating a better user experience for their customers. ServerCloud offers a range of features and services designed to optimize the delivery of content over their CDN. This includes advanced caching and routing algorithms, as well as tools for monitoring and managing the performance of the network and the content being delivered. ServerCloud's reputation for excellent customer support and technical expertise, helps to ensure that their customers can effectively use it's CDN to deliver content.